You will probably be familiar with vinyl graphics as they are the most popular way to make glazed walls compliant with health and safety regulations. But don't think a boring row of manifestation dots any more.
Expressive, meaningful and inviting design is about creating spaces which energise and visually inspire individuals to think differently. Accents of bright colours, the use of different materials, shapes and interactive elements are commonly featured within today's architectural designs to form an interesting and diverse appearance.
We are keen to elevate glazed partitioning into something that can be admired, inspire creativity, and add texture and excitement to an office space.  The scope of what is possible is almost endless.
Vinyl Graphics
Complement interior decor, brand identity and natural lighting with vinyl graphics that bring glass partitions to life in a completely unique and characterful way.
These additions uplift spaces into imaginative environments while:
Providing a degree of privacy
Meeting safety regulations
Allowing light to be shared
Visually inspire with limitless designs, colours and styles.
Industrial Style
Industrial style glazing brings an intriguing and characterful way of dividing open-plan spaces into beautiful private areas, with an Art Deco aesthetic. When balanced with contrasting natural materials, exposed brickwork and biophilic design, this Crittal style comes to life.
Accolade's boxy system allows creative space division and glass panels can be clear or reeded, which provides more privacy. This system is ideal for integrating tech panels for room booking systems and more.
Multi-functional with magnetic and whiteboard glass
Encourage employees to release their creativity, share their ideas and collaborate amongst each other using magnetic and whiteboard glass. Fulfilling several functions, this elegant system helps to create a flexible and adaptable working environment by eliminating the requirement for drilling holes and hanging whiteboards.
Ideal for break-out areas and meeting rooms, this interactive glazing system is available in a range of colour options, helps heighten imaginations and forms a greater sense of community.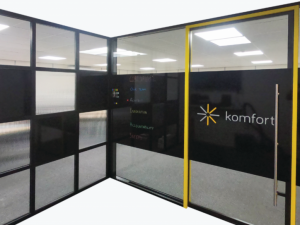 Switchable glass
Possibly the most magical innovation.
In a busy environment privacy is vital. As an exciting alternative to blinds, Switch Glass Technology offers full privacy using visually enhancing and space saving technology.  The glass changes from opaque to clear instantly at the flick of a switch, creating the feeling of seclusion.
Switchable glass is glazing which light transmission properties are altered when voltage, light or heat is applied.  When the electrical supply is switched on, the liquid crystals inside the glass align and allow light to pass through. When the power is switched off the liquid crystal molecules are positioned randomly and block out any light, becoming opaque (private).
LED
Set the scene and uplift any space with the beauty of our LED lighting. Different colours, intensities and styles of the LED Lighting can be incorporated into partitioning systems to reflect brand colours and create a calming yet impactful space.
With intelligent design, Accolade offers Komfort's LED Halo system to bring your space to life, which involves fixing a LED strip around the perimeter of the glazing channel prior to the glass being installed, creating a 'halo' effect.
For more information as to how Accolade Commercial Interiors could transform your office with expert office design and an office fit out, simply contact us today. – Our team are more than happy to help.