A thoughtful carpet layout can transform:
A dull office into an interesting, or even quirky one.
A dirty office into a clean one.
A noisy office into a tranquil one.
A bare office into an inviting one
Direct
You should definitely consider the paths of traffic in the office and design your carpet accordingly to counter noise from footsteps. Accolade gains insight from an informal chat with the customer about who works with whom and which desks, offices or areas are the most visited to guide our design. Often the layout of the carpet tiles can direct people to the correct location. Where there is heavy foot traffic, it's important to specify a tile that doesn't show dirt – often entrance matting at entrance doors can give the rest of the carpet an extra 2-3 years life.
Carpet tiles can also act as an informal barrier in an open plan office, keeping areas distinct and providing plenty of visual interest. For instance, informal meeting areas and workspace can be distinguished in an otherwise open space.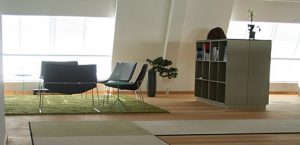 Invite
We all know that the office has been on an evolutionary journey for many years. Coming to the fore now is an increased demand for flexibility in design and functionality – think moveable walls and dividers, adjustable furniture and multi-use communal areas. We expect to see an increase in the use of rugs/thick pile carpet in commercial settings, adding texture to multi-use spaces and drawing on the trend for softening office interiors with a look that you might see at home.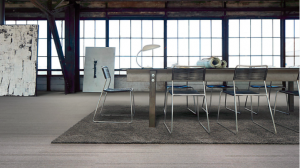 Reduce Noise
Today's open plan office environments are intended to encourage knowledge sharing, collaboration and flexibility, however without consideration for a number of elements in the interior design there may be a downside to these open spaces – constant distraction from noise levels being the foremost of these.
A study carried out by the Danish National Institute of Occupational Health¹ indicates that more than half of all employees working in open space office environments are negatively affected by noise. Telephone conversations, footsteps and chairs being pulled back and forth are all sounds that, if ignored in the interior design, may lead to an uncomfortable working environment and negatively impact employees' ability to concentrate and work productively.
Meticulous carpet specification is one of the key elements to reducing this distraction.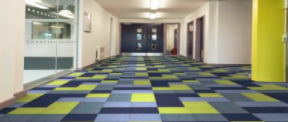 Add Visual Interest
Bright, intense bursts of colour (think Minion-yellow and Pantone's colour of the year Ultra Violet), iridescent shades, rich blacks and golds and vegetal-inspired colours such as celery and berry-hues are top picks from Pantone's 2018 colour palette forecast. We look forward to seeing these emerge.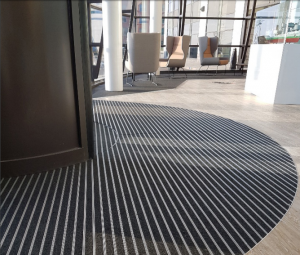 Protect
1m of entrance matting inside your main external doors will take off the majority of the dirt tracked in by shoes. Preventing this dirt from being trodden into your floors will make them last longer. Furthermore, your office will suddenly keep itself clean and neat effortlessly!
It takes little to get carpet design wrong but costs no more to get it right.