The office is a complex environment that is forever changing to accommodate a variety of needs; this often causes problems when looking to fit out an office. For this reason, our clients approach us for inspiration but also to provide solutions to their problems.
You may worry about problems you will face when revamping your existing office or fitting out a new one, we will now discuss how you can alleviate them for an enjoyable experience.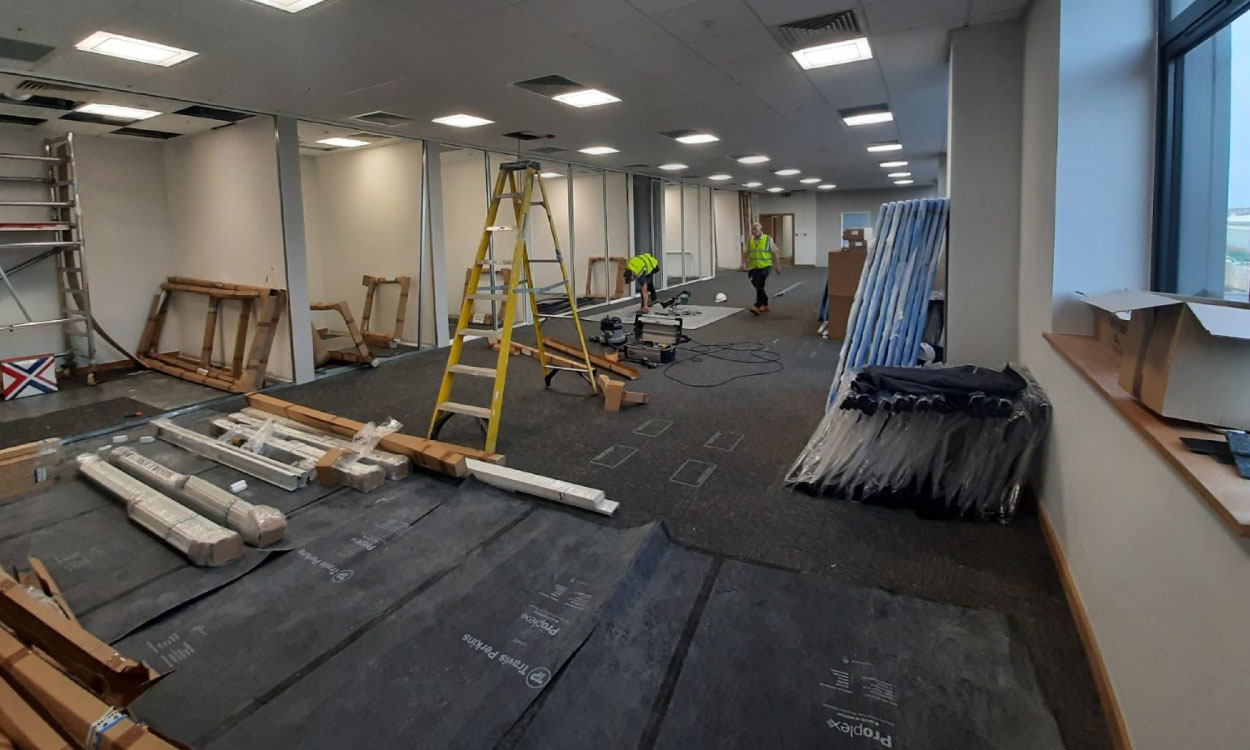 Busting the budget
I'm sure everyone in life has had a moment where you look at something and go 'how much!?' This is almost always true when you look to fit out an office. This means setting up a comprehensive budget before undertaking your fit-out is a must. The budget should have all costs included – this often requires a professional's assistance, as they can help build a quote, inside your budget and to meet the specification you require. In addition to this, we would also advise, whilst making your budget, you allocate a contingency percentage of around 5% to allow for unexpected problems if they arise.
Prioritise your spend
Another budgeting stress is when you spend too much on one thing and not enough on another. For instance, a client may look to revamp their kitchen and bathrooms and when doing so they often look to spend more of their budget on the kitchen rather than washrooms.  However, washrooms are more likely to be used by clients and visitors than a kitchen so it's important not to let the kitchen take over at the expense of the bathrooms.
Choosing the right tradespeople
In fact, it's naive to believe that tradespeople will naturally work cohesively with the other trades without an experienced project management team as it's all too easy to pass the buck without a clear line of command.
Messing up the sequence can have serious consequences. As just imagine a situation where you have carpet fitters laying tiles down and electricians going slow and having to drill in the ceiling above that's causing dust to fall onto the fresh carpet. A lot of clients do not have a trusted group of trades in their contacts, for this reason employing a fit-out company is very useful as they have lots of experience with different trades, meaning they know experienced, professional people.
Plan in advance
Business owners are never one to worry about their businesses developing and growing but often do worry about how their offices will cope with growth.
By prioritising the final layout of furniture and office equipment, it allows you to plan to draw in certain teams (e.g. Marketing) whilst also being able to plan for business and employee growth. Designing and drawing out the layout is where office fit-out specialists come into their own, as they set the offices out in a functional and logical way. This is so that everyone is able to access data and electrics, able to move efficiently around the office, and expand – if you have the space to do so.
Will I be able to move in time?
Construction projects are notorious for finishing late so it is natural to worry at the start, or towards the end of the project, whether the fit-out will be complete in time for you to move in when your current lease finishes or whether you'll have the offices prepared for when new employees are due to start.
At Accolade, we recognise the importance of reassuring our clients that their project will be complete on time so we give the client a copy of our program that outlines what will be complete when and, crucially, when the project will be complete. The completion date is non-negotiable to us so if this means working overtime due to unforeseen issues cropping up, we're prepared to do it.
I can't have disruption between 9 and 5
Office downtime can often be expensive. That's why most businesses operate throughout the office fit-out process. Whatever your type of office work, we all know it's practically impossible to work in the middle of a messy, noisy, and busy construction environment. If having a temporary office isn't available, having an office fit-out company that has a team willing to work outside office hours really pays to have in your contact list, not to mention one that can provide a safe, clean, and healthy working environment for your office staff when their back in.
Will My Office Meet Trends for Years to Come?
Office trends have been fast-changing in recent years. Asking a professional or doing your own research is important when creating the design for your fit-out as it provides you with lots of ideas that you can then pick and choose to match your company's image. However, think first about how long you want your office fit-out to last (usually 5 – 15 years) before you need to refurbish it.  Will crittall glazing still look fresh and modern in 15 years' time?  With this in mind, you might want to opt for glazing where crittall trims can be removed in a few years' time, leaving the glazing intact and looking good – a solution that will stand the tests of time much better.  A good office fit-out company will be able to advise on creating pleasant offices that will stand the tests of time much better.
The Final Outcome
This is the most excitingly scary part of an office fit-out as this is when the detailed quote, drawings, and visuals that you saw at the start of the fit-out process, get realised.  Then people often find problems that cannot be noticed in visuals and drawings such as noise and discomfort. An example of noise is when there is too much ambient noise that distracts employees on the phone and therefore productivity.
A good office fit-out company should be able to foresee this and manage your expectations. For instance, we would suggest double glazing or thicker plasterboard walls reduce noise being heard in the next room.
Alleviate Your Stress
At Accolade, we understand that the office fit-out process is no walk in the park and can present new and worrying challenges. However, when considering an office fit-out, keep in mind that your office must speak volumes about your company and have the potential to raise employee morale. So, to make sure you achieve the office space your company deserves, engage a team of seasoned experts to avoid the pitfalls of a poor office fit-out. With our 25 years wealth of experience in creating the workspaces where people love to work, you get to take a hands-off approach (if you want!) knowing your company's workspace is in safe hands. For more information or a quote for your commercial office redesign, simply contact us today.