Glassdoor UK, the jobs website that lets employees leave anonymous reviews and feedback on their employers, has compiled a list of the best offices in Britain.
Staff at Glassdoor have combed through pictures and reviews left on their site to pull together what they think are the 10 best offices in the UK.
They take into account everything: not just office design but amenieties, freebies, and the general atmosphere at the place.
Here are Glassdoor's pick of the top 10: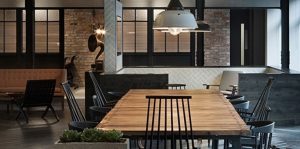 10. AKQA
What? A digital agency that creates products and services for clients.
Why? Glassdoor describes AKQA's offices as "a cool industrial design for their new Clerkenwell offices with a hint of luxury residential." Think exposed brick walls twinned with indoor plants and top of the line kitchen amenities.
What staff say: "I've been working at AKQA for over 3 years and still get the same buzz and excitement about projects that I did in year 1. Working with some of the best clients, on some of the most challenging and truly inspirational projects with teams that will push and support you all the way." — Current Employee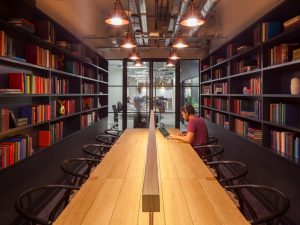 9. Zoopla
What? Zoopla is best known for its online property listings portal but owns a range of property-related tech companies.
Why? Zoopla moved into a new London Bridge office at the end of last year that was designed to mimic a house. The office is made up of themed areas including the library, above, a living room, dining room, wine cellar, and even a treehouse. The office also features a meeting room decked out to resemble a swimming pool.
What staff say: "The office is out of this world… Bruno our very own barista (what a hero!). Gym with fresh towel service (no excuses!). Free breakfast & daily snack time (hence why we have a gym!). Games room with arcade games, pool, table football, air hockey. Ping pong with free weekly coaching." — Current Employee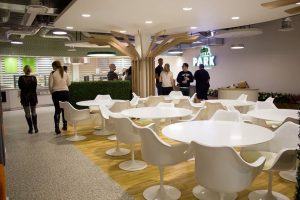 8. AO
What? Online retailer of heavy kitchen equipment like washing machines and dishwashers.
Why? Like Zoopla, AO's offices feature themed rooms — but this time based on things like Lego and football. The head offices also have a restaurant and Starbucks on-site and, like any self-respecting tech or online business, have games like air hockey and pool.
What staff say: "Recruiting on the values means everyone is part of the same culture, like one big family! Free breakfast, chocolate, crisps and fruit! Starbucks and spa on site. They invest in their people with internal courses/development to help you make a career at ao." — Current employee
7. Splunk
Where? London
What? Makes big data analysis software.
Why? The offices feature bespoke graffiti, as the picture above shows, and has a Tardis-themed demo room. The office also offers perks such as free food and drinks.
What staff say: "A fun and lovely motivated team in EMEA that treat each other like family. Yearly trips to Splunk's headquarters in SF. Loads of social events!" — Former employee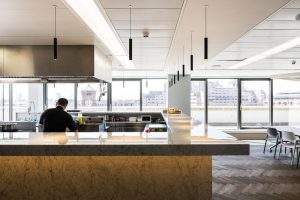 6. Smarkets
Where? London.
What? A sports betting exchange.
Why? Smarkets offers free food, free monthly parties, and plenty of regular out of work activities. The offices themselves also overlook London's docks and feature a big screen gaming set up for FIFA breaks.
What staff say: "Awesome community atmosphere – everyone eats lunch together, meet-ups from laser tag, football, badminton, and a monthly party all paid for by the company. Last month we also had a cello concert, a jazz music jam and we got a tournament standard football table! Excellent chef-cooked breakfast/lunches/dinners and free snacks/drinks. London office is beautiful and in a fantastic location by Tower Bridge." — Current employee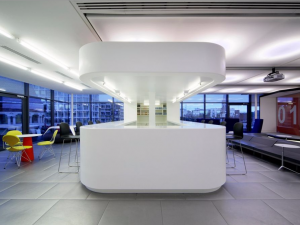 5. Red Bull
Where? London.
What? Energy drink manufacturer.
Why? Red Bull's recently redesigned Soho offices feature a roof terrace with spectacular views over the West End. The building also features a slide from one floor to the next.
What staff say: "Fantastic UK Office, everyone is so friendly! Fun environment, gorgeous office with so many perks. Everyone knows everyone and is happy to help." — Former Employee.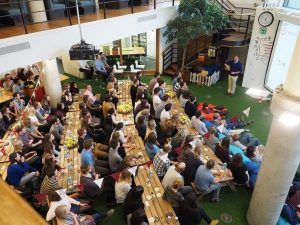 4. Innocent Drinks
Where? London.
What? Smoothie and drinks maker.
Why? With green astroturfed floors and park benches, Innocent's headquarters is decked out to look like an English village fair, designed to reflect the brand's cheery, cheeky nature.
What staff say: "Great culture and career opportunities. Inspiring place to work full of intelligent and competent colleagues." — Former Employee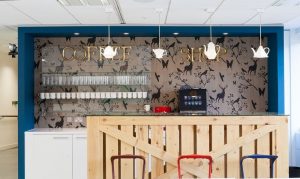 3. Bazaarvoice
Where? London.
What? Helps brands use web-based consumer insight.
Why? Glassdoor says: "Clean, light, and crisp design and quirky features. Includes its own coffee shop."
What staff say: "Good people, they try to make it fun, great office, plenty of lunchtime food options, company is seen as the market leader so well respected, some excellent managers. If you're good at your job you have every opportunity to succeed here." — Current Employee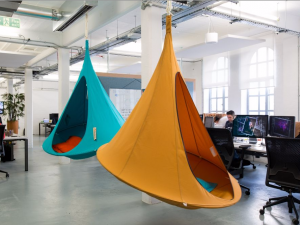 2. Transferwise
Where? London.
What? Online international money transfer service.
Why? The stand out feature of TransferWise's Shoreditch office in east London is its sauna, a nod to the Estonian heritage of its two cofounders. However, it also has plenty of other character pieces such as a roof terrace, table tennis, and sitting pods, pictured above.
What staff say: "When I was offered this job they didn't actually tell me about all the perks you get when working here. From free breakfast, movie nights, team lunches, health and wellbeing sessions, Vitality membership etc, to all the travelling and funny company events.
"But on top of that is the mission: knowing that you are part of a revolution, fighting banks for a fairer and more transparent way of dealing with international money transfer. The level of advocacy from our customers turns out to be extremely rewarding." — Current Employee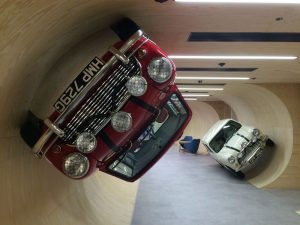 1. AutoTrader
Where? Manchester and London.
What? Car sale adverts.
Why? AutoTrader's offices features car-themed meeting rooms and chill out zones, as well as real cars in the office such as the Minis pictured above at the company's London offices. These vehicles had to be specifically craned into the offices.
What staff say: "Inspiring work environment, a great 'family' feel with a real passion to drive a difference and create a positive change in the industry. Having only been with the company a short while I feel empowered and given full autonomy to 'make a difference' within the company and with our customers." — Current Employee.
Certainly food for thought!