Following a combination of an economic downturn and introduction of more remote working into businesses, many companies now have more office space than they need. By subleasing unused space, you may be able to generate extra cash and put the space to good use.
A commercial sublease is typically a written agreement between the original leaseholder and the company that wants to sublease part of the space. It is important to note that when you sublease office space to another tenant, you are still bound by the terms of the original leasing contract you signed with your landlord.
If you have unused office space, you might be able to benefit from a sublease arrangement. Just be sure to do your homework first — there is a lot more to subleasing than collecting rent.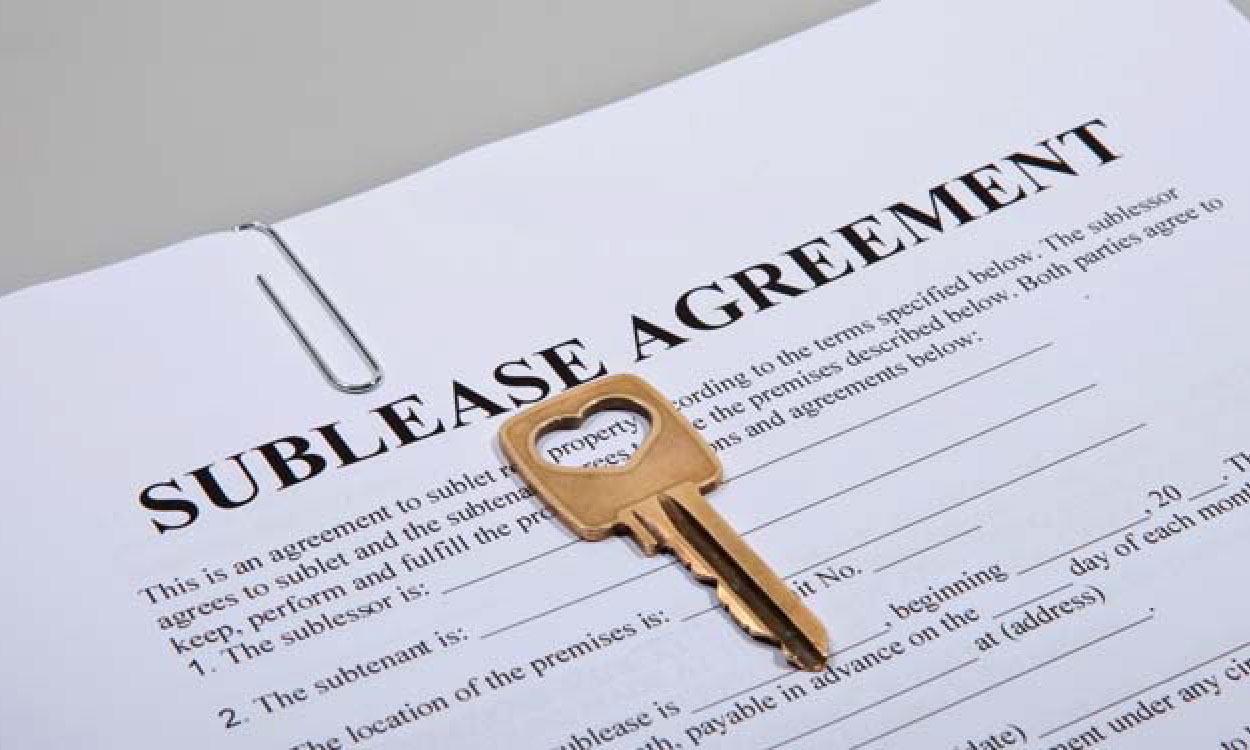 More space than you can afford or use
You have space that you are not going to use. This is the most straightforward reason to sublease. Maybe when you first leased the space, the office was just the right size, but you have downsized since then. That means you are paying for space you do not use. Perhaps that worked for a while, but if company sales are down, and cash flow is tight, it is no longer workable. Instead of letting the extra space go to waste, you may choose to find a subtenant to offset the overall rental price.
Unrealised Growth
While it is important to consider potential growth when entering a new lease, it is also possible that your company could wind up paying for space that it does not ultimately need at the time. In this case, you might find some short-term subtenants to help you pay rent until you can afford to employ additional staff.  Even on paper, it makes more sense to recoup your investment on unused office space rather than letting it sit empty.
Need for a Larger Office
This is the most ideal situation in which to sublet office space. If your company grows beyond its bounds and the office feels cramped, even after professional space planning advice, it is time to expand and move into a larger office.  Most leases last at least three to five years. Many companies consider breaking their lease.  However, breaking lease agreements can be expensive and complicated, making it more attractive for tenants to seek a subtenant to offset termination costs and provide financial flexibility when seeking a larger space. – Work out how much space you need with our practical guide.
Hidden Costs can Bite You
Since you signed the original lease with the landlord, you are responsible for returning the space in its original condition at the end of the lease. While commercial subtenants are typically responsible for maintaining the property, you as the sublessor become responsible should they refuse to repair or pay for the damages.
You must pay the rent no matter what. One of the most popular reasons to sublease is so the subtenants will help you pay the rent, but what if they don't? Well, you still owe the full amount to the landlord.
Unsuitable layout
Even if you have a few extra offices, subleasing may not be realistic. First, ensure the office space includes entrances and exits that can accommodate everyone. Second, make sure there is enough parking. Your future subtenants might need extra space for visiting contractors and clients to park. Third, ensure shared areas like kitchens, hallways, and common areas will not become overcrowded with the addition of some subtenants and that social distancing is straightforward to maintain.
Inviting employees with a different company to work in close by means they will often be within earshot. Remind your employees to talk about sensitive information—such as finances or customers' personal information—only behind closed doors.  Demountable partitioning and acoustic division can solve this can separate the subtenant and, even better, they do not require remedial works on completion of the lease.
However, with some straightforward partitioning alterations, separation is straightforward.  See how Accolade converted an empty shell into a fully fitted office for NFU Mutual.
Culture Fit
Subtenants will change the culture and character of the space to some degree, so be sure to take this into consideration.
Will they disrupt visitors' perception of your company?
Will they have any kind of negative impact on your brand?
Will they cause too much excess noise for your employees to work effectively?
Steps to Sub-lease Your Office Space
Step 1
Check your lease with the landlord
The first and most important step, before you search for a sub-tenant, is to go back and read your initial lease contract to make sure that subleasing is permitted.
Even if subleasing is allowed, your landlord may want a say in the type of business you sublease to or the rent you charge, and they might also reserve the right to approve or reject prospective tenants. Whatever you do, never assume that your landlord will be happy with subleasing — that could land you in serious legal and financial trouble.
Step 2
There are other areas apart from the actual working space you'll need to consider:
Common areas
Will the employees or clients of the company subleasing your space also have access to all your office common areas? Or just some of them? Areas to consider might include:
• Kitchen and break out rooms
• Reception area
• Meeting spaces
Parking spaces
Parking spaces can sometimes be a topic of contention for offices so consider the parking situation at your building and how the newcomers will fit into it. Are there usually plenty of spots available for everyone, or might your subtenants have to park on the street?
Office culture
There are also intangible issues that you need to think about. If you have a more relaxed office culture where pets are welcome and there is often music on in the background, you may not be able to work comfortably side by side with a more formal business that values a quiet atmosphere.
Step 3
Find client
Depending on the market, you will almost always be able to find a company looking to capitalise on a reduced lease, but your best options might be right around the corner. Your neighbours in the building may be looking for a better option, a larger space, or an expansion opportunity, and because they are already tenants to the same landlord, all parties might have an easier time getting what they want.
This step is possibly the most important because having subtenants can work well if there is mutual trust, but not if you acquire the wrong type of neighbour.
First, make sure you are not subleasing the space to a company working in a competing industry. The anchor tenant in a commercial area may have an agreement with the landlord specifying that no other companies in their industry can rent office space in the complex.
Secondly, remember to check a potential tenant's bank and credit references to make sure it is financially sound. Your new tenant will not benefit your bottom line if they do not pay.
Finally, choose subtenants you do not mind seeing every day. For example, if there is any chance that they would be loud or disruptive in any way, you will not want them working in your office.
Step 4
Plan Agreement
Establish the price you want to charge. You can start with an ideal figure based on how much you hope to gain from the sublease arrangement, but also have in mind a price that you will not accept any less than. You want to make sure it is ultimately worth your while to bring on a subtenant.
Typically, businesses and individuals are interested in subleasing rather than leasing an entire space because of the shorter lease and the reduced costs. Keep this in mind when deciding upon rent charges for your subtenant. Also, remember that some leases prohibit tenants from charging enough in sub-rental fees to make a profit rather than just to help cover the rent they owe the landlord each month.
You may also request a damage deposit to cover any potential damages that may occur during the subtenant's time subleasing your office space. Damage deposits are typically equal to one month's rent.
Create an agreement that covers the following details as minimum:
Utility payments
Rent due dates
Potential renovations
Lease terms
Sharing amenities and office services
Branding
Office environment
You are essentially establishing your own lease agreement between you and your tenant, so ensure that it includes all the terms and provisions that are important to you. Allowing a solicitor or real estate professional to examine it will help ensure you do not overlook anything important.
Now it is time to sign the lease and make the arrangements for the subtenants to move in. As a courtesy, it is a good idea to let your immediate neighbours know that you plan to sublease the space and what type of business you will sublease to. This enables them to plan for potential disruptions and share their concerns with you, avoiding any blown-up disputes.  It is usually easier for the sublessor to arrange any internal alterations on behalf of the sublessee as this can minimise disruption.  This doesn't need to take a huge toll on cash flow and tax burden as a demountable partitioning can be leased. For more information as to how Accolade Commercial Interiors can assist with redesigning your office and providing your an office fit out, simply contact us today.