We see pods flashing up everywhere, are they the latest buzz word? Do they replace partitioning and more conventional meeting rooms? While they may be a fashion statement – are they right for you?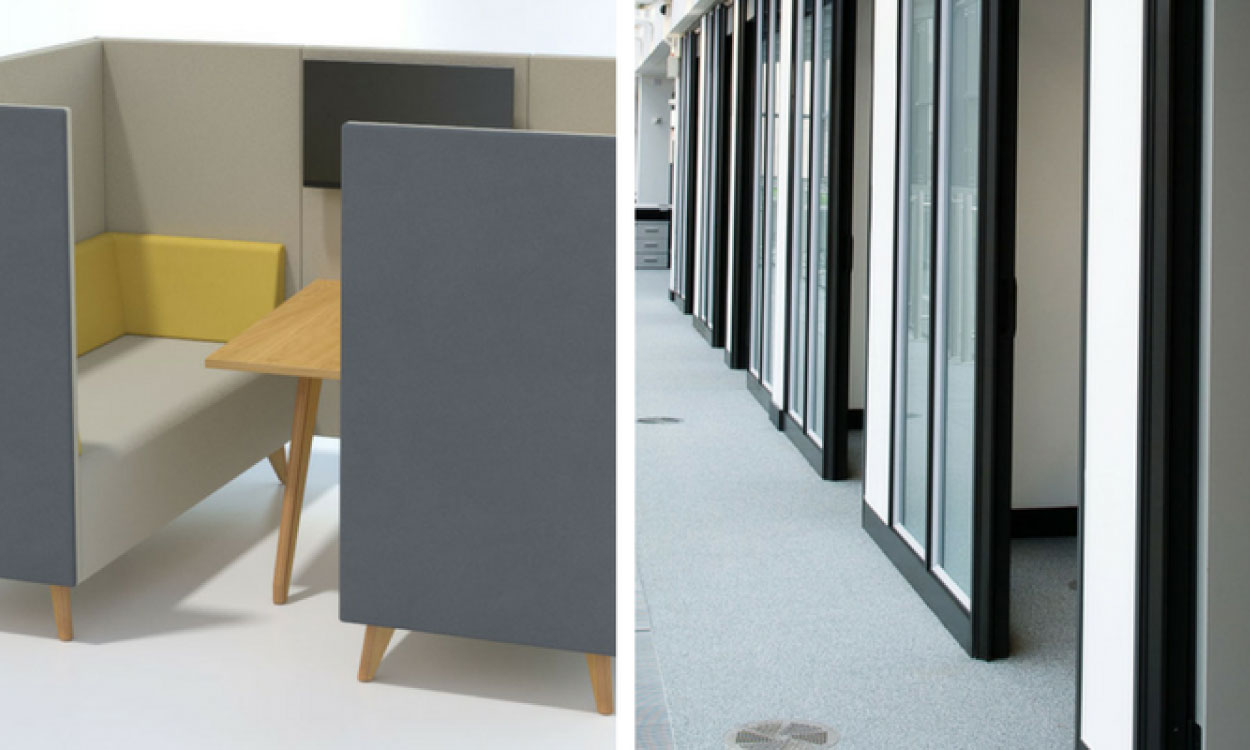 Informal
Pods integrate into the office harmoniously so it's easy to pop in and network. Acoustic sound proofing in pods averages at 30dB meaning that you can hear each other speak without being distracted by the dynamic office only a stone's throw away.
Space efficient
4 persons can be accommodated in a pod that covers 5 m2 whereas in a traditional meeting room, which comprises a circular/square table and 4 meeting chairs, we would advise a floor area of at least 9m2: almost double!
Relocatable
Essentially a piece of furniture rather than a fixture and fitting, a traditional pod should only require 2 members of staff to shift it around the office, unless you're talking about moving it between floors… No specialist labour costs, no new fixings, minimal disruption.
Quick
Accolade can install a pod in as little as 30 minutes – we can often fit at specific times to ensure minimum disruption to your day's work.
Cost effective
From £2,000.00 + VAT you can have a quiet space, where external sound is reduced including some data, electrics and a screen to plug into. With partitioning, you could be looking at £4,500.00 + VAT.
Why is Partitioning so Popular?
Numbers
Yes, most of us need somewhere for groups of 10 + staff to focus on strategy away from distractions. We need some more breathing space, more advanced audio visual and adjusted acoustics suitable for larger groups. (See our article to follow next month focusing on a new trend for space efficient meeting seating)
Multifunctional
Larger partitioned meeting rooms aren't just reserved for meetings. Accolade often recommends flip-top tables for larger meeting rooms so that these spaces can be turned into training and conference arenas as required.
Semi-relocatable
The position of partitioning is not always set in stone. As partitioning specialists, we can specify our demountable partitioning which can be reconfigured at reasonable cost by our specialist fitters to facilitate your business evolution.
Sensitive
There are those conversations that aren't for the ears of the passer-by. Pods reduce sound but they don't eliminate it. You can see inside them too. Sometimes, somewhere away from the hubbub, maybe close to the reception, a discreet partitioned haven is invaluable.
Advanced Tech
Partitioning facilitates installation of more advanced audio visual – ideal for greater collaboration. Facilities like refreshment cabinets and award displays impress!
All in all, think what you want to achieve with your meeting space, filter through these top tips and contact Accolade Commercial Interiors to turn dream into a reality.