An earthy, caramel hue, according to the experts at the paint brand, it's versatile enough to introduce into a wide range of office interiors – because it can be "calming and nourishing" or "stimulating and energising", depending on the palettes and light surrounding it.
"Spiced Honey is a warm caramel with notes of amber, that perfectly reflects our new sense of optimism and resilience for 2019," says Marianne Shillingford, Dulux's UK creative director.  "Spiced Honey has a raw, natural quality that works like a warm neutral, which makes it so adaptable to pairing with different materials and styles of decoration," she enthuses.
"It looks especially good when teamed with whites and off-whites in furniture and furnishings, which gives it a contemporary feel."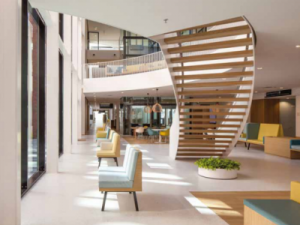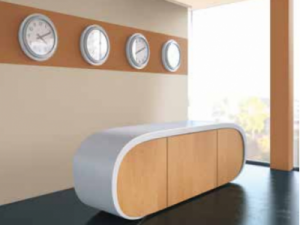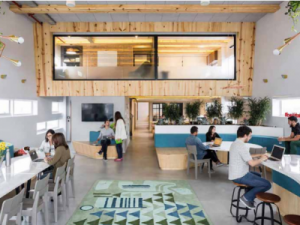 What can it do for interiors?
"Its rich caramel tones visually turn up the thermostat a few degrees, and so it's perfect for creating a relaxed, cosy atmosphere in places where we like to think, dream, love and act," Shillingford notes. "Its the colour of warm woods, and while there's something reassuringly familiar about it, which may pay a nod to Seventies retro, this is a new colour with a fresh, modern spin.
"It's a colour that's happy to play the supporting role rather than being a full immersion shade on all the walls, but it could be a wrap-around colour in a small room where you want an intimate atmosphere.
Now in its 16th year, the Dulux Trade ColourFutures 2019 palette is selected to help professionals make colour and design choices for a wide variety of buildings, from commercial to healthcare and education to residential.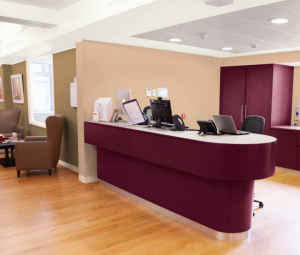 The Colour Of The Year 2019 Palettes:
Warm Neutrals – A Space To Think (Rich Neutrals And Touches Of Soft Pink,Intense Burgundy And Sophisticated Deep Blue)
Soft Pastels – A Space To Dream (Powder Pinks And Blues)
Intense Pigments – A Space To Love (Richly Pigmented Shades Including Deep Forest Green, Bold Teal And Intense Terracotta Red)
Bold Brights – A Space To Act (Vivid Red And Green Among Pale Pinks And Blues And Crisp Greys And Whites)
See Spiced Honey on your walls?  Download the Dulux Visualiser app here.
*Available from 2019