Desk divider screens are a great way to brighten up the workspace and create a more vibrant, welcoming space for your team. They can also be used to extend your business' visual identity, bringing your office furniture more in line with your company colours and branding.
It may surprise you that for many of our customers, it is one of the most important points when finalising how their new office will look. Are you in the camp that want to increase the individual feel of workstations and reduce distractions that come from too much interaction in an open plan office?
Pre-Covid-19, we were advising you to install desk divider screens at 500mm above the desktop to reduce eye contact and to create very private settings. However, after the Covid crisis, specifying a screen that sits 700mm above the desktop will not only create very private space but will provide better protection from other team members sitting nearby.
However, such high screens can be demotivational, especially when customers, who want to maximise sound reductions, request desk return screens that surround 3 sides of the workstation.  Your team can feel cut-off when they work a long day with desk divider screens all above head height.
As far as eye contact is concerned, a lot of office-based staff are still using monitors secured to the desktop and the height of these can prevent that unnerving eye contact that is often dreaded.
This makes shorter screens very practical and it means that staff can still interact around screens where necessary and the open plan office still feels open.
The most popular height for the screen is at 380mm high – it might not look much different but insitu it makes a massive difference to the feel of the office.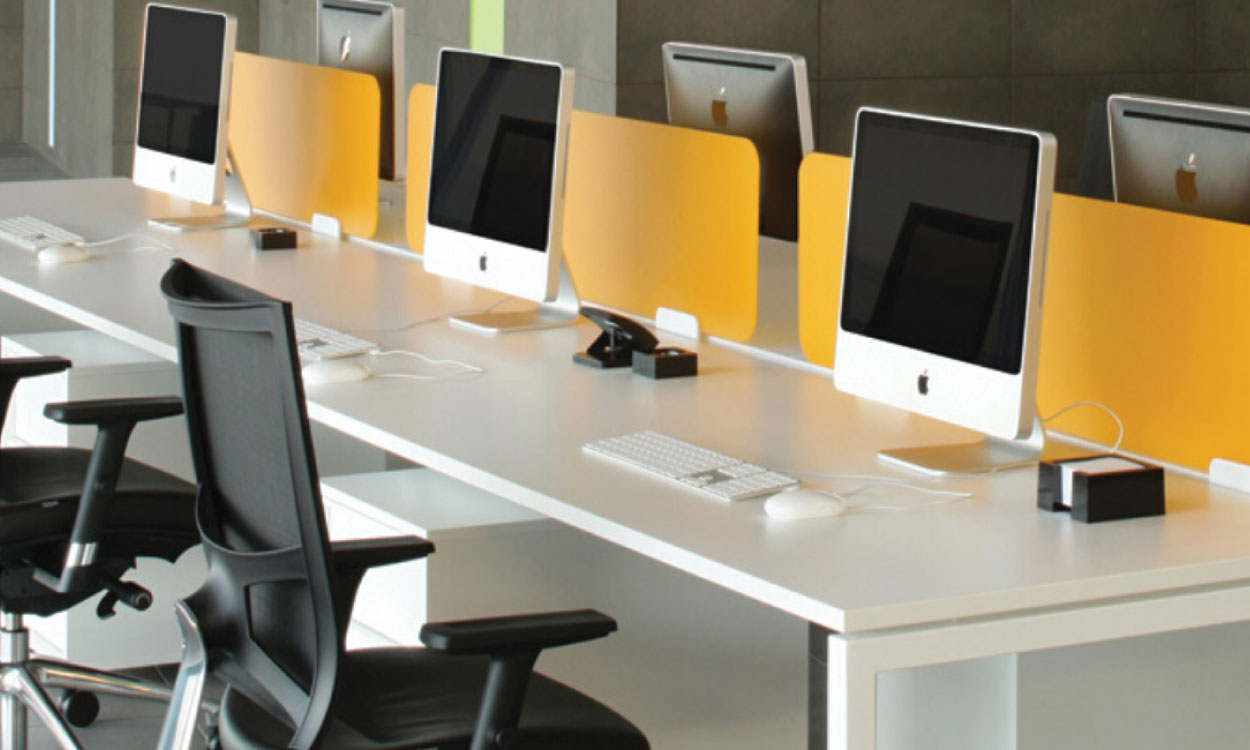 Are Divider Screens Covid Secure?
No not really.  Since the Covid crisis several innovative solutions have been brought forward such as all Perspex divider screens which still give each member of team their own clear space but make for a very airy and open working environment.
If you are thinking about how to kit out a large office where acoustics are very important, desk dividers that are partially acoustic fabric and partially Perspex gives you the best of both worlds.
Many of our customers are loving our detachable Perspex screens that sit upon standard divider screens which can be taken off in due course to leave just the lower fabric acoustic screens.
Why not ask for branded manifestation as an opportunity to promote your brand and values?  See below our brief mock ups for Force Accounting, we can't wait to get some shots of the screens installed!
Yes, acoustics is a burning question.
No one wants to have create an open and collaborative office where no one can hear themselves think.  Much less do you want a customer on the phone to overhear another conversation.
However, have you considered enhancing your ceiling? With our complete refurbishment and furniture service, we could improve the acoustics two-fold to deaden sound within the room and prevent it from escaping to nearby rooms at the same time. Additional wall and ceiling mounted acoustic panels are often specified to reduce 'noise' too.
If you are still convinced that you need high screens for the next level of privacy (particularly in banking, accounting or HR situations), let them be colourful to boost morale.
Screen storage is another great way to break up that expanse of colour, even better, it reduces desk clutter to maintain a sense of proportion. If industry standards specify high screens on 3 sides to give adequate confidence, then your best bet is to provide plenty of breakout space around to give staff a chance to interact.